Our Heritage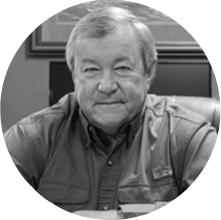 Earl Bentz, the founder of Caymas Boats, literally grew up in the marine business. As a teenager, Bentz worked for his uncle, D. F. Jenkins, at his marine dealership in Charleston, South Carolina. Although originally hired to rig and service boats, the young Bentz also began working with the pit crew of his uncle's boat racing team. Boat racing captured his imagination, and at age 16, Bentz drove in his first race, piloting the Blue Goose in an event on Lake Murray.
Racing quickly became Bentz's passion and soon he was competing on the national circuit. Bentz went on to race for the Mercury Racing Team in Oshkosh, Wisconsin for eight years, during which time he was the nine-time National and two-time World Champion.
Bentz then went to work with Hydra-Sports, a leading boat manufacturer in Nashville, Tennessee. In September 1983, Bentz resigned from Hydra-Sports to become President and founder of his first boat manufacturing company, Stratos Boats.
Under Bentz's direction, Stratos quickly became a leader in the fiberglass fishing boat Industry. After Bentz sold Stratos to Outboard Marine Corporation OMC, under his leadership, the OMC Fishing Boat Group became the world's largest producer of fiberglass fishing boats.
In May 1996 Bentz founded Triton Boats, a premium line of saltwater and freshwater fishing boats. Triton Boat Company was purchased by Brunswick Corporation and Bentz continued to serve as Triton's Founder and Chief Executive Officer until 2018.
In September 2018, Bentz founded Caymas Boats. Over the course of his more than fifty year career in the marine industry, Bentz has also contributed his time and expertise to the industry by serving on the Board of Directors of the National Marine Manufacturers Association, the National Association of Boat Manufacturers, the American Sportfishing Association, the Boating Partnership Council and the Congressional Sportsmen's Foundation.